AppWorldReport.com
Sales and Download Report Visualization
BlackBerry® App World™ provides very detailed sales and download reports to BlackBerry® App vendors which can be downloaded from the App World™ vendor panel as a CSV file. With our report visualization you can now get the most important information out of your reports. As an app developer you will find this information extremely useful for future development decisions.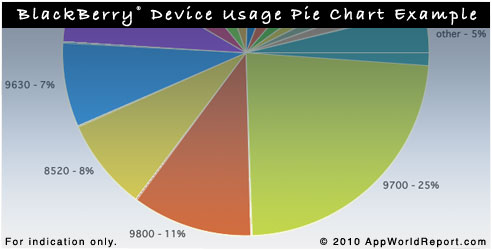 With our Sales and Download Report Visualization you can see:
Apps sold / downloaded most.
Roylaty you earned & sales were turned over.
Best day of month or week.
Best hour of day.
Category ranking against each other.
Apps not sold / downloaded.
Most used device & BlackBerry® OS.
User's carrier and country.
Most spoken languages.
This service is provided for
free
.

We respect your privacy! Your personal data will not be shared with any third party!
| | |
| --- | --- |
| BlackBerry® App World™ has thousands of vendors and tens of thousands of BlackBerry® apps for download. This comprehensive report will provide a complete overview over all apps in all categories and how they rank against each other. | |